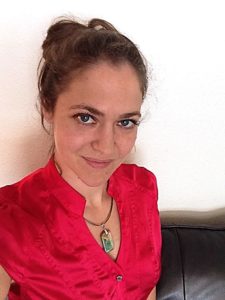 Erika F. Marie, LAc., Founder

Erika Fayina Marie is a board-certified Licensed Acupuncturist in Colorado and Oregon, an Integrative Medicine Consultant, and a Traditional Usui Shiki Ryoho Reiki Master.  She graduated with a Masters of Science in Oriental Medicine (MSOM) and Certificate in Shiatsu from the National College of Natural Medicine (NCNM) in 2012 after completing one of the most intensive 4-year graduate programs in acupuncture and oriental medicine in the nation.   She is certified as a Diplomat in Acupuncture (Dipl. Ac) with the NCCAOM and holds Clean Needle Certification with CCAOM. In patient care, Erika draws upon her education and training in Classical Chinese Medicine, Traditional Chinese Medicine, Tan-style Acupuncture, Kiiko Matsumoto Acupuncture, Five-Element Acupuncture, Nutrition, Naturopathic Iris Evaluation, Moxabustion, Electrical Stimulation Acupuncture, Homeopathy, Chinese herbal medicine, Shiatsu (acupressure), Shonishin (infant/child acupressure), Qigong, Taiji, and more.  Erika also holds special certification in Constitutional Facial Acupuncture™ as taught by the world-renown pioneer in Facial Acupuncture Rejuvenation, Mary Elizabeth Wakefield.

Erika currently serves on the Board of Directors of the Acupuncture Association of Colorado (AAC).  Together with the other board members, she is excited to spearhead important integrative medicine initiatives and promote the safety and proper regulation of acupuncture as a time-honored and effective medicine.  On the national level, she is also a member of the American Association of Acupuncture and Oriental Medicine (AAAOM).
Erika understands what it means to lose one's health.   After the birth of her daughter and just after receiving her graduate degree, Erika became very ill.  When medical experts across disciplines were stumped, Erika had no choice but to put her own aggressive immune disorder into remission by integrating multiple perspectives and opinions.  She then helped her child thrive despite a life-threatening and rare blood disorder, clearing her tiny heart from iron overload and preserving her vision and hearing.  For four years, she worked with international expert in Chinese herbalism Heiner Freuhof, gaining an insider's knowledge of Gu Syndrome and how to treat autoimmunity with a truly integrative approach. With all this deep, personal experience, Erika specializes in reversing auto-immunity and complex disease and restoring health of both adults and children.  To read more of her story, please visit her website. 
Prior to her medical career, Erika graduated the United States Military Academy at West Point, where she earned a Bachelor of Science (BS) in Engineering Psychology (Human Factors Engineering) with a F.O.S. (Field of Study) in Systems Engineering in 2002.  During this time, she designed, analyzed, and conducted multiple randomized-controlled trials.  Her team was honored with an award from the American Psychological Association for their scientific research project analyzing the effectiveness of telepresence communications.  After graduating the Academy, Erika spent nearly five years in the military as an active duty Army personnel officer.  She was released from service as a Captain (O-3) with an honorable medical discharge in 2007.

Erika is also a highly popular teacher of health classes in the Longmont, CO community (many of them are offered at free or low-cost), an engaging and informative speaker, an artist, and author of the to-be-published books:  Autoimmuity, Sex, & the Dao and Modern Testament.